Graflex Graflok back
The flexibility of large format cameras in terms of accessories keeps me creative and fresh without the need to purchase new camera systems. My Zone VI Studios, Inc. large format camera came with a bail-lever type film back that was permanently attached and could not accommodate other film sizes other than 4x5in.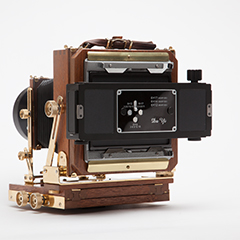 So, I decided to make a new film back and attach the Graflex Graflok (International) back that would enable me to attach adapters that allow me to shoot 120 roll-film. This expands the capability of my Zone VI Studios, Inc. large format camera beyond the 4x5 ratio but still enables me to use view camera movements.
To make the new film back that accomodates my Graflex Graflok back, I used an old award plaque made of walnut and used a table saw and router table to machine the wood to the correct size; with all of the necessary grooves. After a fresh coat of stain and polyurethane, I attached the Graflex Graflok back with two polished brass plates and screws.
There are two 120 roll film holders that I use on a regular basis with this Graflex Graflok back. I have the DaYi 6x17cm roll film holder for panoramas and the Wista 6x7cm roll film holder. These are just two examples, however, there are a number of these specialty film holders available on the used market.
Please be sure to check out my video on how this Graflex Graflok back works and the adapters I attach to it.