death valley super bloom - Part 2
Wild flowers growing in the desert are always a delight to see, especially in some of the most unexpected places. The Death Valley Super Bloom of 2016 was so special because of the groves of wildflower patches that sprung up in some of the most rugged terrain imaginable.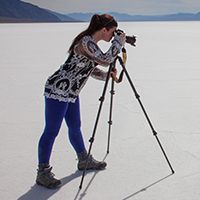 It's no wonder that people flocked to Death Valley National Park in record numbers to witness this spectacular and rare event. A close family friend, Cathy Anderson (https://cathyanderson.smugmug.com) heard about the Super Bloom and decided to fly put from North Carolina to witness this desert spectacle for herself.
On this trip, we hit the road for an adventure through Cathy's photographic eye. Since I had witnessed the Super Bloom just four days prior to this trip, I wanted to make sure that Cathy was able to accomplish what she wanted photographically and to experience the Super Bloom in her own way. Please watch our vlog to find what we saw, the photographs and video we were able to capture and the surprises we encountered along the roadside!
Thanks in advance for watching and your continued support! Please remember to Like, Subscribe, Comment, or Donate to my channel so that I can continue to bring you fresh content more regulalry.